Carbide Cannons
Shoot your own cannon – or simply own an awesome replica – carbide cannons make unique gifts that will be talked about for years!
This is how a carbide cannon works: You add your 'ammunition' to your cannon. You also add water. The mixture then begins to interact with a small amount of air that is in the cannon. Similar to a gas engine when you pull the igniter the mixture is ignited creating your 'bang' and explosion from the cannon.
This video will show you how it works: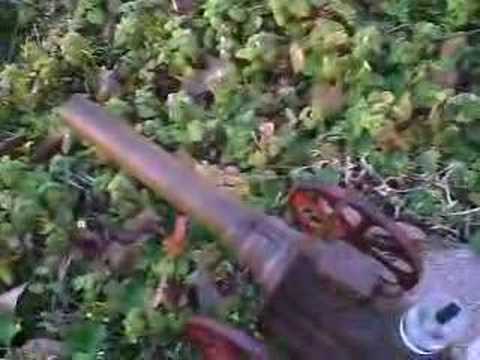 So what you need is a cannon, ammunition (calcium carbide), igniter (spark plug) and water.
No matches or explosive power are required.
Carbide Cannon Examples:
This cast iron carbide cannon was made in the 1940s:
This picture is of a cast iron carbide cannon from Big Bag. It is about 17 1/4 inches long and 5 inches wide. Model 10 FC. With a push button magazine it drops a measured charge of calcium carbide into the chamber of water which then generates the gas. Simply pull up ignitor, push down and experience the roar of the cannon.
Fun Cannon Alternatives:
Here are some pictures of products that work like the cannon, but which are molded into different types of military equipment: a tank, gun boat, and bombing plane:
The Ammunition or Calcium Carbide Needed for Your Cannon:
More information about the calcium carbide needed for your cannon is on the Bangsite Calcium page.
List of Currently Available Carbide Cannons and Supplies on e*Bay:
Large Vintage Big Bang 150mm Army Carbide Cannon


$99.99







9″ PREMIER USA "BIG BANG" CAST IRON CARBIDE CANNON REPLICA TOY


$59.95







Vintage Conestoga Big Bang Carbide Field Cannon No. 10FC 4 Wheels 17 1/2"L


$53.29







Big Bang Cast Iron Carbide Cannon – 17″ Major Field Cannon – Toy Noise Maker


$50.00







Vintage Conestoga Big Bang Carbide Field Cannon No. 105MM With 4 Wheels 17 1/2"L


$62.83







Vintage Conestoga Big Bang Carbide Field Cannon No. 10FC 4 Wheels 17 1/2"L


$30.00







Vintage Premier Big Bang Cast Iron Carbide Toy WWII Cannon Army Military 1100×20


$49.95







Vintage c1940 Conestoga Big Bang Bangsite Carbide Cannon Cast Iron Model Toy yqz


$39.99







Vintage Ad -Big Bang carbide cannon – June 1963


$5.40